In So Many Words
A remarkable documentary explores the inner life of Dr. Lucy Daniels, whose childhood has both tormented and motivated her throughout her life. Filmmaker Elisabeth Haviland James employs imagined narrative, constructed dream sequences, intimate interviews, and Daniels's own writing to bring a harrowing survival story to the screen.
Upcoming Screenings
January 15, 2020
Pullen Memorial Baptist Church
Dinner: 5:15pm
Screening: 6:15pm

This Free event is hosted by The Justice Love Foundation and Pullen Memorial Baptist Church.  Dinner will be served proceeding the screening at 5:15pm
Please Register Here
In So Many Words DVD is available by making a $20.00 donation to the Lucy Daniels Foundation – click here to Give.
(The Internal Revenue Code requires us, when acknowledging your gift, to state that we provided you with a DVD of In So Many Words, which we estimate has a value of $5.00, in return for your gift.  Your federal income tax deduction is limited to the amount by which the value of your contribution exceeded the value of the goods and services we provided to you.  A letter will be provided upon the receipt of In So Many Words DVD.)
Premiere Screening:
Full Frame Documentary Film Festival  Sunday April 7 2013 at 5:00 PM
In So Many Words was selected for screening at the Longleaf Film Festival May 2015 at the N.C. Museum of History in Raleigh.  Click here for more information about the LongLeaf Film Festival.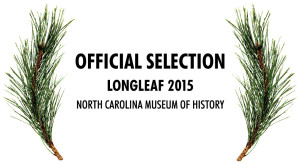 Previous  Screenings:
McIntyre's Books at Fearrington Village
Friday October 4, 2013 @ 6:30 PM
Center For Modern Psychoanalytic Studies
Friday October 18 2013 at 7:30 PM, Sixteen West Tenth Street, New York City
Sunday November 10 2013 at 2:00 PM, 67 Dorcus Trail, Penland, NC
Sunday November 17 2013 at 4:00, Thalian Hall Center for the Performing Arts 310 Chestnut Street Wilmington NC
North Carolina Museum of Art Cinema Series
Sunday February 9 2014 at 2:00 PM, 2110 Blue Ridge Road, Raleigh, NC
Emory Psychoanalytic Institute, Movie Mania Free Event
Friday March 7 2014 at 7:30 PM, Room 207, Goodrich White Hall, Emory Campus, GA
Alliance for Psychoanalytic Thought aPt and Psychoanalytic Center of Philadelphia, Reel Thinking Series
Sunday April 6 2014 at 2:00-5:30 PM, 3810 Mt. Pleasant Drive, Philadelphia, PA
Duncan Littlefair Great Speakers Series
Monday April 14, 2014 at 7:00 PM, 2121 Celebration Dr, NE, Grand Rapids, MI
The Denver Psychoanalytic Society, 2013-14 Psychoanalytic Lecture Series
Friday May 2 2014 at 7:00 PM, Montview Boulevard Presbyterian Church, Denver, CO
Kansas City Association for Psychoanalytic Psychology, Kansas City Institute for Contemporary Psychoanalysis and Amy Sullivan, Chicago
Wednesday August 20, 2014 5:30-8:00 pm, Diastole Scholars' Center, Hospital Hill Campus, Kansas City, MO
Lucy Daniels Center host at The Cary Theater
Thursday, October 9, 2014 7:00 PM
UNC-Asheville, Highsmith Union, HIG 104
Friday, October 17, 2014 7:00 PM
Ackland Art Museum, UNC-Chapel Hill
Thursday, November 6, 2014 7:00 PM